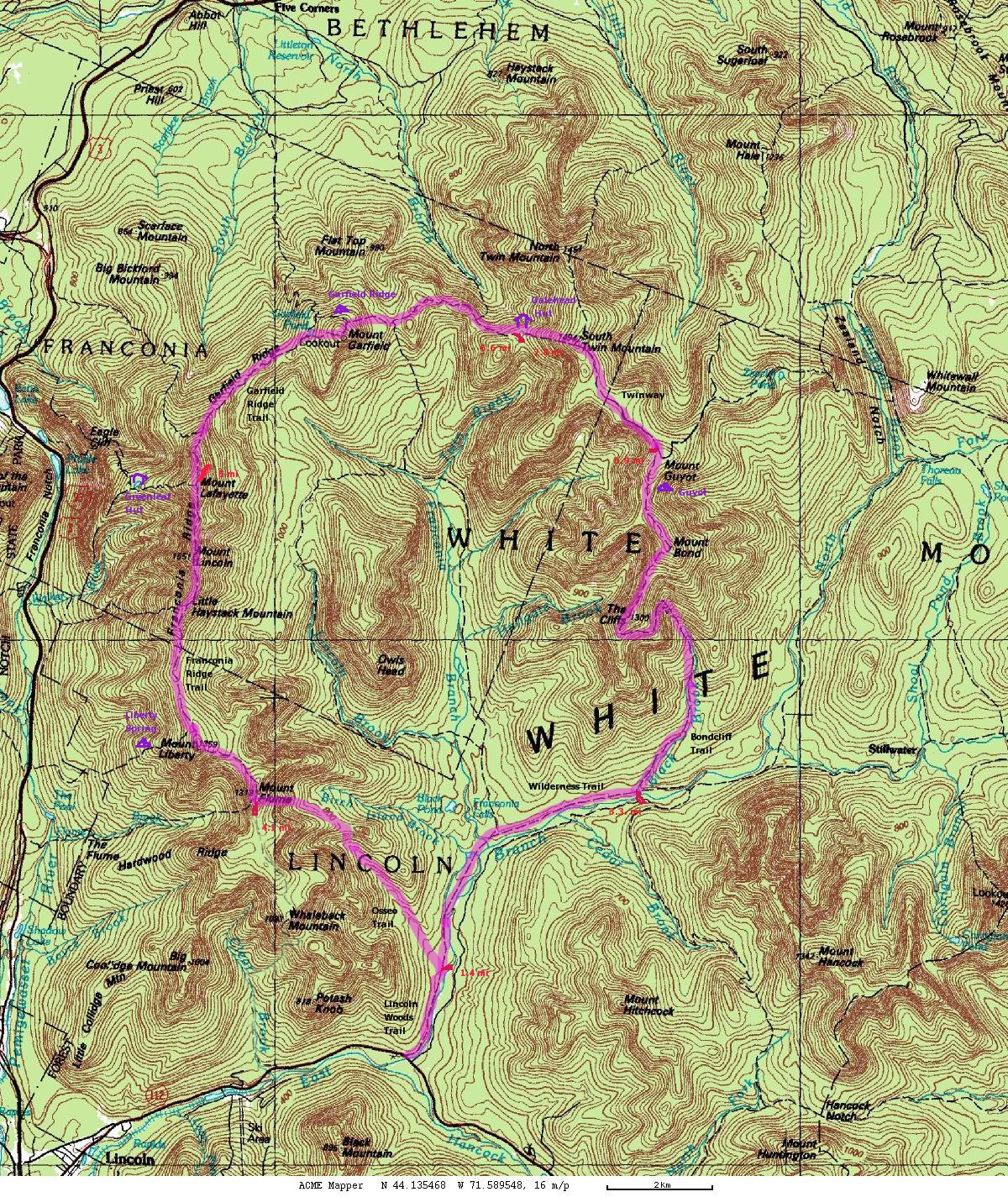 Home
Photos
Hiking
Writings
Contact
Copyright
Pemigewasset Loop FAQ
Why this page?
What is the Pemi Loop?
How far is it / how long will it take?
How do I get there?
Where can I camp along the way?
Should I be worried about bears?
Where can I find water along the way?
What time of year should I try this?
What happens if I get lost or injured?
Got a good map?
Trip report links On message boards such as Views from the Top [renamed "VFTT" in 2012], I noticed a sudden increase in questions about this loop hike. I assume that the reason for this increase is the May 2005 article by Backpacker Magazine, listing the Pemi Loop in the #2 spot among "America's Hardest Dayhikes." To save myself and others a lot of typing, I've created this page to answer the most frequent questions. The "Pemi Loop" is a loop-shaped hiking route along several trails in the Twin and Franconia Ranges of New Hampshire. These ranges are part of the White Mountains, and lie within the White Mountain National Forest.

Everything about this hike is unofficial, including the name. "Pemi" refers to "Pemigewasset", a name shared by a nearby river and by the designated Wilderness Area in which the hike takes place (and also by a small mountain nearby which is not part of the loop). The name "Pemi loop" is not entirely satisfactory, since the hike described by Backpacker Magazine encircles only the western half of the Pemigewasset Wilderness, but it's the best name we've got.

The loop runs over some of the highest and most scenic mountains in New Hampshire outside the Presidential Range. (A traverse of the "Presis" is another hike that is worth bragging rights - see this description by Mohammed Ellozy.) It can be done in either direction, but a majority prefer to do it clockwise, which is how I'll describe it.

Don't bother looking for trail signs marked "Pemi Loop"; the loop consists of a concatenation of trails. From the Lincoln Woods trailhead (see below), the basic loop takes the Lincoln Woods Trail to the Osseo Trail. Just below the top of Mt Flume the Franconia Ridge Trail begins. It passes north over Mts Flume, Liberty, Little Haystack, Lincoln, and Lafayette. From the top of Mt Lafayette the Garfield Ridge Trail takes you easterly, over Mt Garfield, to the Galehead Hut. From there the Twinway climbs South Twin and then dips a bit southward to the summit of Mt Guyot, where you turn due south on the Bondcliff trail, passing over Bond and Bondcliff. At the south end of the Bondcliff Trail turn west on the Wilderness trail to rejoin the Lincoln Woods Trail.

There is no official definition of the "Pemi Loop", and many who hike it like to include additional peaks nearby, in addition to the "basic loop" just described. The most obvious candidates for side trips are, in my opinion:
Galehead Mountain - via the Frost Trail from Galehead hut.
North Twin Mountain - via the North Twin Spur from South Twin.
West Bond - via the West Bond Spur from the col between Guyot and Bond.

The first question is easy to answer, though the answer will of course depend on whether any of the "side peaks" are included. The second question is far more difficult, as it depends on multiple factors including weather, trail conditions, how much gear you're carrying, and your normal hiking pace. In the table below I've given "book times", which are calculated as follows: half an hour per mile of distance, plus half an hour per 1000 feet of climbing. Despite the crudity of this method, it is the most useful benchmark I am aware of. Long before attempting the Pemi Loop, you should have a good idea of how far your own hiking pace differs from "book time" on White Mountain trails, and the effects of pack weight and weather, but do not forget that a thirty-mile hike is a very different thing from the typical short hike. Fatigue may slow you down much more than you expect.

As a practical matter, a hike of the Pemi Loop may also include some side trips to reach water sources and/or camping sites, which are not included in the distance totals.

Distances and elevation gains are only approximate and may not add up exactly (nor convert exactly between imperial and metric). Trails can be re-routed from year to year, and maps have limited accuracy. In particular, total elevation gain may be off by a few hundred feet (perhaps 100m).
| | distance | elevation | book time (hrs) |
| --- | --- | --- | --- |
| Basic Loop | 31.5 mi (51 km) | 9,160 ft (2,800 m) | 20:15 |
| + Frost Tr (Galehead Mtn) (r.t.) | 1.0 mi (1.6 km) | 250 ft (75 m) | 0:35 |
| + North Twin spur (r.t.) | 2.6 mi (4.1 km) | 750 ft (230 m) | 1:40 |
| + West Bond spur (r.t.) | 1.0 mi (1.6 km) | 350 ft (105 m) | 0:40 |
| | --- | --- | --- |
| Fancy Loop | 36 mi (58 km) | 10,500 ft (3,200 m) | 23:15 |
I think that the Backpacker Magazine article computes an "elevation change" of 18,000 feet by counting both ups and downs.

Obviously, you should not consider attempting the Pemi Loop as a one-day hike unless you know you hike a LOT faster than book time. Some people like to go REALLY fast: under seven hours. For the latest speed record, please refer to Peter Backwin's Fastest Known Time website. Don't even think about trying to match this until you've got a few marathons under your belt, or the equivalent in mountain running.

The loop begins and ends at the Lincoln Woods trailhead on the Kancamagus Highway (NH rte 112), about five miles east from Interstate 93 in Lincoln, NH. There is ample parking available for three dollars a day (cash at the trailhead; discounts available with advance purchase; "interagency passes" (e.g. America the Beautiful Pass) accepted. The following campsites and huts are near the trail (in clockwise order- see map):
Liberty Spring Tentsite
Greenleaf Hut
Garfield Ridge Campsite & Shelter
Galehead Hut
Guyot Campsite & Shelter
The Huts require reservations and a fee, and are only open seasonally.
The Campsites and Shelters are first-come-first-served. A fee is charged in the busy season.

You can also try to find your own back-country campsite. This is not easy, due to difficult terrain and the National Forest rules.

NOTE: the rules can and do change. The following was accurate in 2012:

You may not camp (except at designated campsites) within 1/4 mile of any hut, shelter, campsite, or trailhead.

You may not camp above treeline (defined as where the trees are under 8 feet tall), except when there is at least 2 feet of snow on the ground.

You may not camp (except at designated campsites) within 200 feet of any trail within the Pemi Wilderness, nor the Liberty Spring Trail, Falling Waters Trail, nor Old Bridle Path. No camping within Franconia Notch State park.

You may not camp within 1/4 mile of the East Branch Pemigewasset River below Franconia Brook, nor within 200 feet of the East Branch Pemigewasset River up to Thoreau Falls Trail, nor within 200 feet of the lower part of Franconia Brook (below the second island above Franconia Falls).

Complete rules (as of 2012). These rules change from time to time - and unfortunately, the Forest Service doesn't have a stable URL for finding them. if I haven't updated the link lately, search the Forest Service website or check my links page on SummitPost.

As a practical matter, considering treeline and terrain, this all means that you can only camp in the established campsites (see map), or fairly low on the Osseo or Bondcliff trails (but at least 1/4 mile above the Pemi River). Seasoned bivouacers have sometimes found spots outside the various restricted areas, notably near the top of Mt Flume, along Garfield Ridge, and along the Twinway, but these will be small, uncomfortable, and generally waterless.

No, not really. The biggest risk is that a bear may find your food while you sleep. So far that's a very rare event, but WMNF rules require you to properly hang (at least ten feet up and five feet out from the nearest tree trunk) your food, or store it in an approved bear-proof container (available for rent in many places, including for free at the Androscoggin ranger station in Gorham). That's a good idea anyway, because while the bears may not have learned that hikers = food, the mice certainly have.

Here's some more info about Black Bears.

In clockwise order (see map):

The trail stays near waterways until about 2500' elevation on Mt Flume. After that, the trail stays on top of the ridges, though detours are possible if need be.
The next time the trail passes water is Garfield Pond. (Prior detours include Liberty Spring and Greenleaf Hut.)
Following that and a stream near Garfield campsite, the next water can be found at Galehead Hut.
After that, there is nothing reliable until Black Brook, on the descent from Bondcliff. (Except a short detour to Guyot campsite.)
The trail stays fairly close to water for the rest of the loop.

The loop has been hiked in all times of year, even as a one-day hike in winter. However, most hikers prefer to hike in good weather, with ample day length, and without snow on the ground: that means June through September. Beware of black fly season in late spring, and avoid the hottest summer days.

You should plan on being on your own for at least several hours. If you stay on trails, chances are someone will find you sooner or later, but you'd best be prepared for the weather in the meantime. In winter, "later" can mean weeks. Do not count on your cell phone - it probably won't work in most of the area of the Loop.

If you've told somebody where you'll be and you don't return, they can call the WMNF rangers, or simply call local police, who will figure out who is in charge of mounting a rescue. A number of organizations share rescue responsibilities in the WMNF; in the Pemigewasset the agencies involved are likely to include U.S. Forest Service, Appalachian Mountain Club, Pemigewasset Valley Search and Rescue and Upper Valley Wilderness Response. These are skilled and dedicated people, many of them volunteers, but they have to a) find you b) carry you out on a litter. The carrying alone will usually take at least two dozen people and several hours. If the weather is dangerous (eg, snowstorm) rescuers will usually wait for better weather before beginning a search.

New Hampshire law (RSA 206:26-bb) allows the state to bill you for emergency expenses if you "acted negligently in requiring a search and rescue." Heading into the woods with no preparation is exactly the sort of situation this law has in mind.

more about rescues in the Whites

In short, self-rescue is the name of the game. You should be familiar not only with the trails you plan to hike along, but also with trails and roads you might need to travel in order to reach help. For example, you should know that the Flume Slide trail is steep and difficult, and therefore a terrible choice in winter or when injured, and that Haystack Road is closed all winter and spring.

My map shows you the locations of trails and campsites.

The most up-to-date trail maps you can find (along with very useful trail descriptions) are the ones in the back of the White Mountain Guide. They lack detail, but are good for planning larger loops like the Pemi Loop.

As of 2012, the best online map resource I know of for the U.S.A. is Caltopo.

The story of my 4-day Pemi Loop in 2005; additional photos.

The story of my one-day Pemi Loop attempt in 2007.

Special thanks to VFTT members, especially NHMtnHiker, for feedback and corrections.
---
Home
Photos
Hiking
Writings
Contact
Copyright